Reception Learning Spring 2021
Our Spring term Learning Journey was based on the following BIG QUESTION:
'What does our world look like in pictures?'
In Reception this term we discovered different countries, cultures and illustrators from around the world.

We began the term by investigating different forms of transport and different ways we can journey around the world. We looked at atlases and local maps to see where we would like to discover, made our own passports and plane tickets and enjoyed creating our very own maps.
We started our travels by learning all about our capital city by reading Lauren Child's Charlie and Lola, 'We completely must go to London.' We enjoyed virtually travelling around the city, learning about the famous landmarks and having a go at recreating them using construction and illustration.
We loved looking at different flags and countries in our big atlases we then began to travel around the rest of Europe each choosing our own country and researching to find out more about. We learnt about different traditions, foods, languages, flags and artwork from various European countries. We created our own non-fiction books based on all the facts we found out to share with our friends.
Next our travels took us to Brazil for the carnival. We looked at all the beautiful pictures in the story of 'Julian is a mermaid' and found inspiration to plan our own carnival outfits. Designing hats, masks and floats using our bikes.
On the 12th February we visited China to celebrate the Lunar New Year, learning about the zodiac story and the great race. We found out about the traditions of celebrating the New Year and ended the week with the Chinese celebration party.
After half-term, we continued our adventures around the world, 'visiting' Australia by reading 'Diary of a Wombat'. We created our own diaries and found out about the landmarks, wildlife and cultures of Australia. We loved learning about the Coral Reef, creating our own mini reefs using junk modelling and having an under the sea day.
We loved celebrating Book Week, and dressing up as our favourite book characters. We talked about our favourite stories, characters and authors. We looked at different illustrators picking out the ones that we liked best.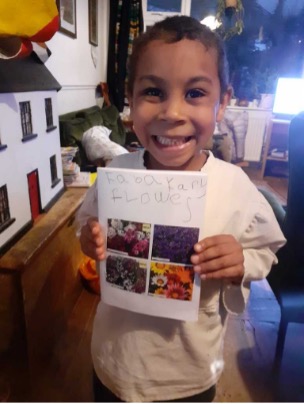 After welcoming back all the children (hooray), we read 'Brown bear, brown bear what can you see?' by Eric Carle. We were surprised to discover that he also illustrated some of our favourite stories including the 'Very Hungry Caterpillar', we used this as inspiration to decorate our classroom door for 'War of the Doors' in school and create our own illustrations in the style of Eric Carle.
After visiting Explore Galore we discovered a crashed UFO! In our classrooms we found a strange looking yellow creature looking sad. After some investigation we found out it was Beegu an alien who had crashed landed on Earth and lost her family. We discussed why Beegu would feel sad and how we could cheer her up. We wrote our own character descriptions and then recreated a story map and actions to help us to create our own stories based on Beegu.
Next half term we are really looking forward to starting our growing topic with the arrival of our duckling eggs and caterpillars!
We would like to take this opportunity to thank all the parents and carers for their phenomenal hard work with all the home learning and continued support during such a tricky time for all. THANK YOU!